To enhance a home cockpit with realistic controls instead of just using a simple joystick and gaming rudder pedals is possibly the dream of every cockpit builder. So here it goes …
Boeing Airliners still have *real* linked Yoke Columns and Rudder Pedals. And there is quite some mechanical engineering involvend when you want to re-build them at home. So, I was first of all lucky to get a pair of real Boeing 737-300 control columns including the linking crossover bar from my colleague Jim Doyle of Desert Air Spares. The good thing is that those heavy and proven parts have not really changed much throughout the Boeing 737 history. So the NG's still use almost the same model as did the -200's 40 years ago. This is not a sign of laziness on the side of Boeing but a sign of good quality and of a working concept. However, the control crossover bar was not complete, there were one 10 cm part missing and both bearings were missing as well. Now it is not that simple to get those parts on the free market. Most cockpits of used airliners get sold in one piece nowadays to cockpit builders like me. The FAA-certified spare parts on the other hand are available but they come with a quite fancy price tag. And who needs FAA-certified parts for a plane that will never fly, anyway …
Jim helped me to get in contact with several companies and finally the parts were available and delivered from Universal Asset Management (UAM INC).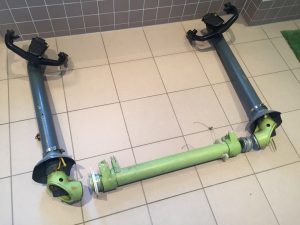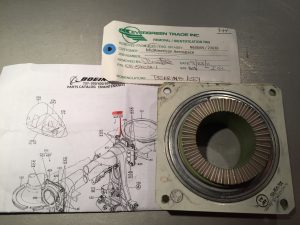 Having the original parts at hand means first of all a lot of joy but at the same time some real trouble: how to mount them, they are really heavy. This is where the real work starts. And I am very glad to have met Pedro Bibiloni which owns SimuJabs, located in Mallorca Spain. Neither being a trained mechanic nor having any of the required tools for serious metal work this contact saved my life (I cannot say it differently). I have looked around for other companies which offer dual linked Boeing 737 control columns but none of them seemed either as professional as Simujabs nor do they seem have the required frames to fit the heavy original parts.
Pedro offered me to adapt one of his motorized yoke column frame to fit the original parts. The process involved Pedro asking me for the exact measures of just about every corner of these original parts. He actually suggested that I could send the columns to Mallorca and he would do the job. But at the end we agreed that we do it all by trusting each other and by very good imagination of each other's descriptions.
This October two really large packages arrived. Mounting the yoke columns and the crossover bar was a great experience with the high precision work done by Pedro. The only thing which we realized was that the absolute distance between the columns is not 1020 mm as communicated by MarkusPilot but 1017 mm. You might now think that this is a real detail, but 3 mm's are a big deal when it comes to link the roll mechanism between the two columns.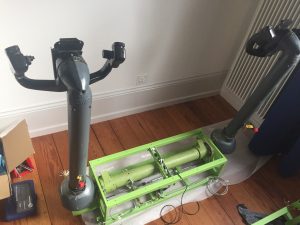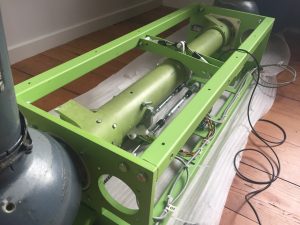 The roll mechanism in the SimuJabs construction is a highly advanced ball joint (left picture below) with the joint exactly at the center of the pitch axis rotation (right picture below). The roll force is then transferred under the crossover bar by chains, roll force regulated by regular springs. The pitch rotation is regulated by heavy duty gas springs sitting at the top of the frame (can be seen in the right picture above).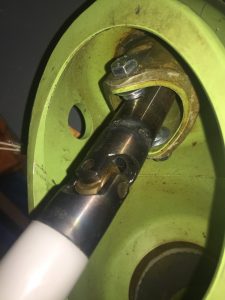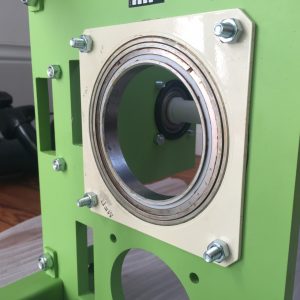 Pedro from SimuJabs also delivered a pair of standard linked rudder pedals with all the bells and whistles.  They work great! The only thing that I have to find out is how to assign two sets of toe brakes (Captain and First Officer separately) to the X-Plane control inputs. In X-Plane there is only one set of toe brakes allowed.
More on the exclusive and professional rudder pedals of SimuJabs in a next post.
Conclusion
If you ever need a professional set of linked Yoke Columns or Rudder Pedals, please count on SimuJabs.